SID theme search engine
Finally! The SID theme finder has been resurrected and upgraded to modern HVSC path names.
This is a musical search engine for SIDs.
Please enter a melody, using the following syntax: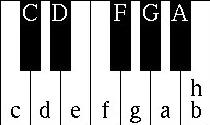 You may use wildcards. A dot (".") matches any note, and a star ("*") matches anything.
(For instance, "feDdfeDdfeDdfeDdfedAa" will find Commando.)
The database was generated from the High Voltage SID Collection v4.6.
Note: This search engine is rather coarse; it will probably return several SIDs that don't sound even remotely like the one you're looking for, and chances are it won't find the one you really want. However, checking out 20 random search results is far better than having to listen to the entire HVSC just to find a tune.
How does it work? ...and why doesn't it find my favourite SID?
Posted Tuesday 29-Jan-2008 06:36