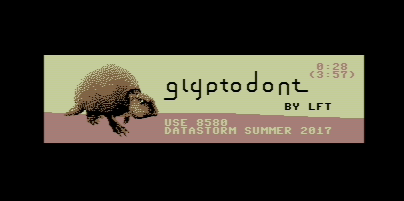 Glyptodont
Glyptodont was my contribution to the C64 music compo at Datastorm 2017 Summer Edition. It achieved a meager 5th place out of six, although that is perhaps to be expected for a pensive and melancholic tune. I hope you will enjoy it anyway!
Download
Here's the CSDb page for Glyptodont.
Posted Thursday 21-Sep-2017 19:42
Discuss this page
Jag tar inget ansvar för det som skrivs i forumet, förutom mina egna inlägg. Vänligen rapportera alla inlägg som bryter mot reglerna, så ska jag se vad jag kan göra. Som regelbrott räknas till exempel förolämpningar, förtal, spam och olagligt material. Mata inte trålarna.
Anonymous
Sat 2-Mar-2019 23:56
This certainly deserved better!